17 January 2014 09:21 (UTC+04:00)
1 020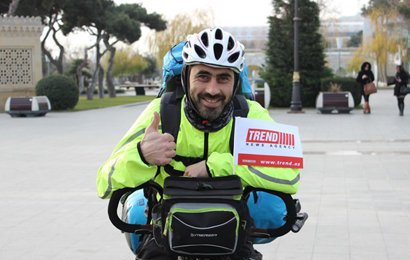 By Nigar Orujova
Azerbaijani cyclist Ramil Ziyadov started a two-year trip, under the motto "In the name of Azerbaijan", in which he plans to cover 45,000 kilometers across Eurasia and Africa.
This is the third such a tour for the captivated cyclist, who already covered over 15,000 kilometers in six months, cycling from Russia to China, and 300 km tour in Azerbaijani regions.
However, this is not enough for Ramil, a farmer from Barda, who is not a professional rider, but fall in love with the extreme sport and by his own means travels around the world to glorify motherland Azerbaijan.
Ramil has set out a goal to present to foreigners: Azerbaijan, its achievements, developments and its acute problem, the Nagorno-Karabakh conflict with Armenia. For this purpose, he started learning English. He always carries and distributes leaflets about the country wherever he comes.
He planned this to continue his journey to see Russian snow, Europe and Africa from the first day when he came back home from the first trip in October 2013. With this aim, he started his training in winter travelling to Georgia.
Ramil, the first Azerbaijani cyclist of such a long distance, plans to cover 20 km a day. Nevertheless, he believes the journey will be challenging, as he has never before ridden on snow.
"The route will be very difficult, I will go on the bike through Georgia to Russia, will pass such major cities as Moscow, St. Petersburg and Murmansk in the winter cold, and then continue my route through Belarus, Ukraine, Moldova and Turkey," Ramil told AzerNews before leaving Baku.
Ramil has already reached Georgia.
Preparing to the journey, he spent the nights outdoors; however, 40 degrees Celsius below zero is waiting for him in Russia, which is not only difficult, but also even dangerous for his health.
Notwithstanding the risk, with only cold-weather clothing, sleeping bag and tent, Ramil wants to show the world how strong and able Azerbaijanis are.
Then, out of the frying pan into the fire, Ramil will optimistically continue his trip in Africa, from Egypt, Ethiopia, Kenya, Tanzania and RSA. He will cycle to try himself in Cameroon, Senegal, Morocco, and then from Egypt, Turkey and Iran will return to the homeland.
After covering this long distance, Ramil will become one of the 100 cyclists in the world who took a chance of such a journey.
This iron determination to praise the motherland is even more applaudable, as Ramil sold his land in Barda to cover the journey financially.
Hopefully, the courageous cyclist will manage to complete his journey without too many difficulties. AzerNews will observe his journey, keep watching and root for Ramil.
Related News