17 July 2016 09:47 (UTC+04:00)
1 212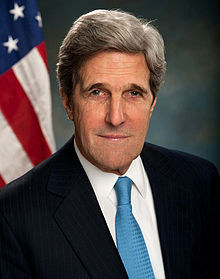 US Secretary of State John Kerry said in a telephone conversation with Turkish Foreign Minister Mevlut Cavusoglu that claims regarding US role in the attempted coup in Turkey are "utterly false". Such a statement is contained in the Saturday release of State Department spokesperson John Kirby, TASS reported.
Kerry is cited as saying that "claims about any role by the United States in the failed coup attempt are utterly false and harmful" to bilateral relations between the United States and Turkey. "Secretary Kerry also urged restraint by the Turkish government and respect for due process and its international obligations as it investigates and uncovers additional information about those involved. He made clear that the United States would be willing to provide assistance to Turkish authorities conducting this investigation," the release said.
"The Secretary reiterated U.S. support for the democratically elected government in Turkey, for the rule of law and for the need for authorities to take all necessary precautions to safeguard civilian life and property as they respond to this attempted coup," the release said.
"Finally, both ministers discussed Turkey's importance as both a NATO ally and a key member of the coalition to defeat Da'esh, and stressed the need to stay focused on ensuring operational support to those efforts continue unabated," the release reported.
Overnight to Saturday, a group of insurgents attempted a coup in Turkey. Major clashes erupted in Ankara and Istanbul. Later on Saturday, the Turkish leadership said that the coup was quashed and the government regained control in the country. According to the latest reports, the death toll has climbed to 265 and about 1,440 more were injured.
--
Follow us on Twitter @AzerNewsAz
Related News