16 June 2016 15:00 (UTC+04:00)
1 740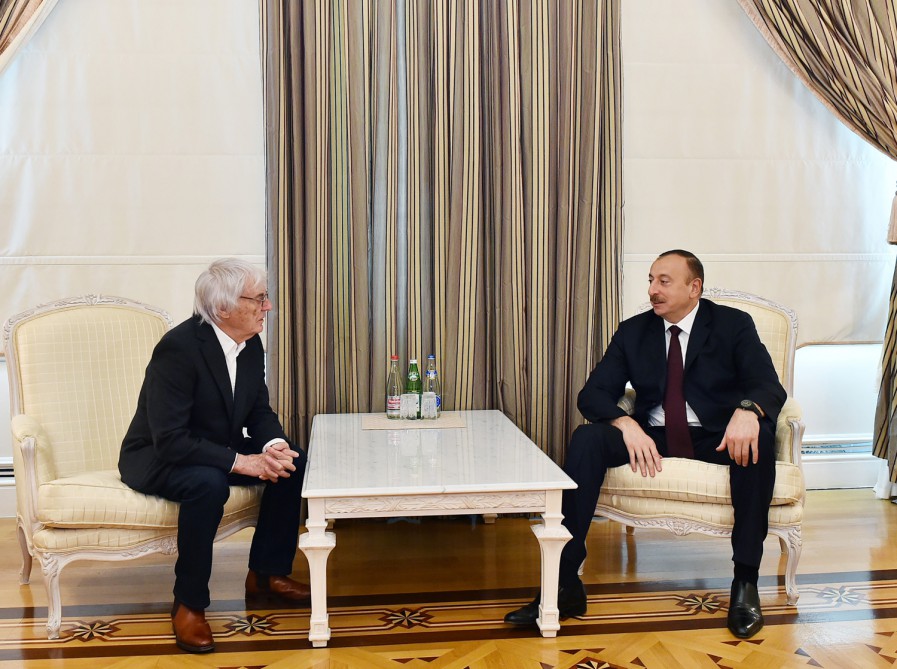 Azerbaijan's President Ilham Aliyev received CEO of Formula One Management Bernie Ecclestone in Baku on June 16, Azertac reported.
Ecclestone hailed the preparations for Formula 1 Grand Prix of Europe in Baku, saying that he was deeply impressed by development processes in the Azerbaijani capital.
"Formula 1 Grand Prix of Europe would contribute to promoting in the world development processes taking place in Azerbaijan," he said, adding that he was happy that the country joined Formula 1 family.
Reminding that Azerbaijan had a good experience of hosting international events, President Aliyev noted that capital Baku was ready for Formula 1 Grand Prix of Europe.
The president said the people of Azerbaijan were enthusiastic about F1, which had a total global audience of 500 million people and was one of the most famous sporting events.
"We are interested in increasing the global awareness about the beauty of Baku and the country`s development," said the head of state.
President Aliyev noted that international events held in the country were of vital importance in this regard, further praising the fact that the number of tourists coming to Azerbaijan increased recently.
Highlighting the importance of Formula 1 Grand Prix of Europe, the president said the event would contribute to the growth in the number of tourists visiting Azerbaijan.
President Aliyev said the increase in tourist flow allowed to promote development processes taking place both in Baku and regions of the country, noting that Formula 1 was of vital importance from this point of view.
Baku will present a Herman Tilke designed circuit that winds around some of the city's prominent historical sites. The Baku Grand Prix is the most exciting race of the year with a number of challenges that every driver dreams of winning.
The 2016 Formula 1 Grand Prix of Europe to be held in Azerbaijan for the first time will start June 17 at 18:00 (GMT + 4 hours). The European Grand Prix will be held over 51 laps on the new circuit of slightly over 6 kilometers. The maximum estimated speed at the race is estimated at 340km/h.
An extremely narrow uphill section along the old town walls will require pinpoint accuracy, and an acceleration section of almost 2.2 km along the seaside promenade, will see the cars running flat out at very high speed - something that will create an incredible show both for pilots and race fans.
---
Follow us on Twitter @AzerNewsAz
Related News