Azerbaijan's defense industry on non-stop rise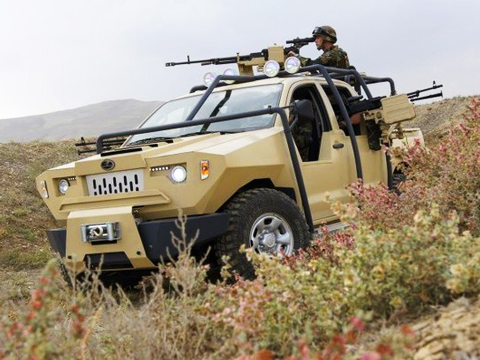 By Mushvig Mehdiyev
The Defense Industry Ministry of Azerbaijan has increased its production volume by 26.3 percent in 2014, and achieved a growth in a production on state order in 2014 compared to the previous year.
Assortment of the domestic production of defense significance increased by 1.4 percent, while the volume of the manufactured and delivered defense industry products grew by 30 percent in 2014 compared to 2013, Yaver Jamalov, Defense Industry Minister, said in a meeting on the outcomes of 2014, in January 26.
Jamalov added that Azerbaijan's economy is progressing, the state budget is growing and the people's welfare is improving due to consistent measures on forming a diversified economy and realization of the state programs under the guidance of President Ilham Aliyev.
"Manufacture of the products for civil use rose by 13.5 percent with an assortment of over 450 products last year," Jamalov said.
Jamalov added that the ministry has commissioned several facilities for defense industry production in 2014, according to a plan developed after the announcement of 2014 as the Year of Industry.
"Our Ministry organized the first ever international defense industry exhibition in the region, ADEX-2014 that was also attended by President Ilham Aliyev. Specialists of the ministry conducted developmental activities, mastered the production of tens of new weapons and provided the ground for their serial production," Jamalov said.
Azerbaijan succeeded to demonstrate 132 products of defense industry significance in the DSA-2014 exhibition in Kuala Lumpur last year.
The ministry continued its developmental work on three themes under the state order and engaged in work on 33 themes under the scientific surveys in the National Aerocosmic Agency.
Jamalov once more reminded about measures outlined under the instructions by President Aliyev.
The heads of the Ministry's facilities have also delivered their speeches at the meeting about the conducted works in 2014.
The Defense Industry Ministry has submitted a plan to the government on the establishment of new production facilities and purchasing of manufacturing technologies in 2015, said Jamalov in his earlier address.
He said more than 50 new production facilities have been built in Azerbaijan from 2007 to 2014.
Azerbaijan's expanding military budget has lifted it to the top among its neighbors in the South Caucasus. The country's military budget for 2015 is $5 billion, which is considerably more than the last year's $3.8 billion military expenditures.
Global Firepower, a center providing a unique analytical display of data concerning today's world military power, ranked Azerbaijan 50th among 106 countries in its most recent report, noting that the country can call upon hundreds of thousands of reserves.
- - -
Follow Mushvig Mehdiyev on Twitter: @Mushviggo
Follow us on Twitter: @AzerNews