11 June 2015 14:19 (UTC+04:00)
809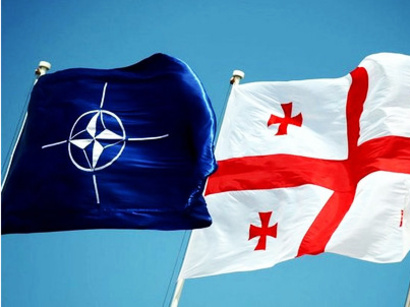 By Aynur Karimova
The decision on Georgia's accession to NATO will be adopted at a political level.
This remark was made by General Jean-Paul Paloméros, NATO Supreme Allied Commander for Transformation, on June 9, local Georgian media reported.
"This is not for us to make political decisions you understand but this is very important that military chiefs push the boundaries of the partnership," Paloméros said. "It was demonstrated in Wales and even before and I am sure it will be demonstrated in Warsaw that the Heads of State will make their decision about the future."
"We are here to make sure that we enable the future in terms of military capabilities. When we see the ability of the Georgian Forces to integrate within NATO operations this is a great sign of Georgia getting closer and closer to military standards and military capabilities. If one day at the political level it is decided that Georgia is on the course of the Membership Action Plan that will make things much easier," he added.
He noted NATO has provided Georgia an opportunity to participate in its military operations, which is the aim of any partnership with NATO.
NATO General also highlighted Georgia's commitments towards NATO.
"Georgia has never failed. Georgia is true to its commitments. So as I said here are the military chiefs who are doing our best to make sure that the Substantial Package, the Enhanced Partnership, the Interoperability Platform – all of that works as much as possible. Our presence here is a great demonstration and I am very pleased that I made this decision almost two years ago that Georgia will be the hosting nation thanks to the great offer of your country to host the Strategic Military Partnership Conference. This is a great mark of our demonstration to work together," the general added.
NATO's Strategic Military Partner Conference 2015 was held in Tbilisi on June 8-10. High-ranking officials of NATO member and partner nations' armed forces and experts attended the annual military forum and discussed the transformation issues and future challenges.
NATO and Georgia enjoy good friendly relations, being intertwined via Tbilisi's irreversible aspiration for an alliance membership and NATO's positive feedback in this regard.
Few countries in the Euro-Atlantic region expressed as much enthusiasm for NATO as Georgia, despite its non-NATO status. Building solid relations with NATO is of great significance for Georgia, the aspirant country that seeks a membership at the military bloc.
Relations started after the end of the Cold War, when newly independent Georgia joined the North Atlantic Cooperation Council in 1992 and the Partnership for Peace in 1994.
Georgia has recently implemented major defense reforms to prove it can operate effectively alongside the military alliance's forces.
Georgia's rulers claim that the strong aspirations to join NATO is for ending the long-lasting dispute with Russia rather than gaining a major ally to further stand against the northern giant's policy in the region.
NATO, in turn, attaches a special attention to Georgia viewing the country as one of its future members. Regular mutual visits at top official level serve NATO's interests to ensure a sustainable support to Georgia, to help the country develop its military infrastructure and skills.
At the Wales Summit in September 2014, a package of measures was launched to strengthen Georgia's ability to defend itself and advance its preparations for membership.
Russia's official approach towards the Georgia-NATO approximation is quite negative as it views the military bloc's active involvement in the regional issues as a serious threat to the stability of the region.
--
Aynur Karimova is AzerNews' staff journalist, follow her on Twitter: @Aynur_Karimova

Follow us on Twitter @AzerNewsAz
Related News