5 February 2015 10:59 (UTC+04:00)
3 621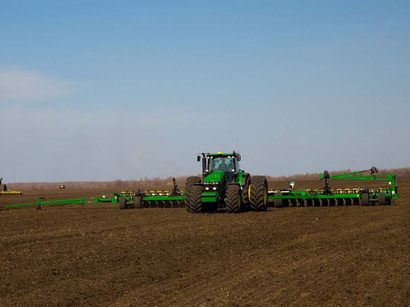 The growth of business profitability in the agricultural sector of the Kazakh economy has attracted the attention of investors.

"The volume of investments in Kazakhstan's agricultural sector exceeded 166 billion KZT ($1=184.45 KZT) as of 2014, which is 17 percent more than in 2013," according to the Ranking.kz analytical service.

The aggregate profitability index of large and medium-sized companies operating in Kazakhstan's agricultural sector stood at 17.7 percent, while this index was equal to 4.5 percent in the same period of 2013, according to Ranking.kz.

Three key grain regions of Kazakhstan accounted for 58 percent of the total volume of investments in the fixed capital in the agricultural sector in 2014, said the message.

The volume of investments totaled 50 billion KZT in North Kazakhstan province, 27 billion KZT in Akmola province and 19.5 billion KZT in the Kostanay province.

KazAgro national holding also pays special attention to the abovementioned provinces, said the message.

KazAgro is implementing the program for development of the agro-industrial complex in Kazakhstan for 2013-2020 – Agribusiness-2020.

The holding's investment portfolio included 464 projects worth of 298.6 billion KZT in total, according to the financial statement as of Q3 of 2014.

The following provinces of Kazakhstan are in lead in terms of the implementation of investment projects: Akmola - 63 projects (18.1 percent of the total number of implemented projects), North Kazakhstan - 40 projects (11.5 percent), Almaty - 39 projects (11.2 percent), Kostanay - 37 projects (10.6 percent) and South Kazakhstan - 30 projects (8.6 percent).
- - -
---
Follow us on Twitter @AzerNewsAz
Related News