4 September 2014 15:03 (UTC+04:00)
443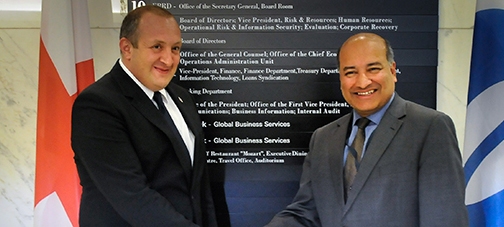 By Amina Nazarli
The excellent relations between the European Bank for Reconstruction and Development and Georgia were mulled as EBRD President Suma Chakrabarti welcomed the President of Georgia, Giorgi Margvelashvili, to the Bank's headquarters in London on September 3.
The two presidents discussed the Bank's continued support for the further development of Georgia's economy. The meeting also looked ahead to next year's EBRD Annual Meeting, which will take place in the Georgian capital of Tbilisi on May 14-15, 2015, the bank reported.
The Annual Meeting of the EBRD Board of Governors is always accompanied by a business forum, which will provide an opportunity for Georgia to showcase itself as a destination for business investment and to review its success as a leading economic reformer in the region.
The two presidents further discussed the further development of the Georgian private sector, the modernization of the country's infrastructure and measures that will catalyze domestic investment and bring additional foreign direct investment into the country.
"Georgia is a leading reformer in the EBRD region. The Bank is eager to support Georgia's further economic development and to reinforce the country's strong growth outlook for the long term. A stable economy and a predictable business environment are key to further increases in domestic and foreign investment. The signing and ratification of the Association Agreement with the EU and the creation of the Deep and Comprehensive Free Trade Areas will enhance further the potential of the country. We will cooperate closely with the authorities as they work towards a stable economic future," Chakrabarti said.
Since it started operations in Georgia, the EBRD has invested over €2 billion in the country, in 171 projects covering the energy, transport, agribusiness, general industry and banking sectors. 2014 is expected to be a record year for the EBRD in Georgia, with investments totalling an estimated €250 million, twice the amount invested in 2013.
Related News