5 May 2014 09:38 (UTC+04:00)
4 132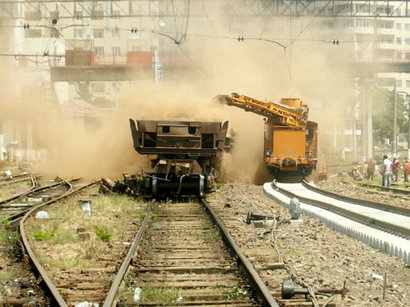 A loan agreement worth $350 million was signed between Chinese Eximbank and the Uzbek National Bank of Foreign Economic Activity for the construction of the railway line through the Kamchik pass in the east of the country
The loan was issued for a period of 20 years, including a five-year grace period, at a rate of 2.25 percent per annum,Uzbekistan Railways representative told Trend Agency.
The loan will be used for design and constructing a 19-kilometer tunnel. The general contractor is China Railway Tunnel Group.
Uzbekistan started construction of the Angren-Pap new electrified railway in July 2013.
The Angren-Pap railway line with a length of 129 km would run through the Kamchik pass and link the three oblasts in the east of the country - Andijan, Namangan and Fergana - with the remaining part of Uzbekistan.
The project worth $1.77 billion is financed at the expense of the Uzbek side's own funds and loans of the international financial institutes.
The construction is planned to be completed in late 2017.
Category News