14 May 2013 11:08 (UTC+04:00)
533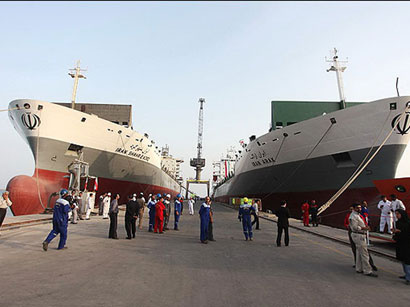 Sara Rajabova
Islamic Republic of Iran Shipping Lines (IRISL) is currently active in international waters with 164 ships, Fars news agency quoted Managing Director Mohammad Hossein Dajmar as saying.
Sanctions which hit the country's national shipping industry made the private sector to become more active in this field. However, the sanctions reduced the IRISL revenues by half to below $1 billion, he said.
The country's share in bunkering among regional countries is currently below 10 percent, Dajmar said.
"Unfortunately, the national oil industry has been sanctioned. This issue has affected bunkering. European countries have banned Iranian ships from berthing at their ports," he said.
The United States and the European Union have been using economic sanctions against Iran as part of their effort to force the country to make concessions in the protracted dispute over its enrichment of uranium, which it has continued in violation of United Nations Security Council resolutions calling for a halt to the enrichment.
The West has accused Iran of seeking the capacity to build nuclear weapons, an accusation that Tehran has denied.
The sanctions have reportedly banished Iran from the global banking system, caused a severe devaluation in its currency and sharply reduced its ability to sell oil.
In July 2012, Dajmar said that international sanctions have helped Iran break Europe's "monopoly" on the shipping insurance industry.
Also last July, Iran called back seven of its 10 tankers working in the European Union countries, Mehr news agency reported, saying this step is Iran's way of applying sanctions against the Union.
An Iran National Oil Company's official told Mehr on condition of anonymity that Iran's 10 super tankers have been sailing in the EU, but recently seven of them have been called back to Iran from the Mediterranean Sea to the Persian Gulf.
"There is a need for more tankers to ship Iranian oil to international markets, but because of the sanctions, they have to avoid some countries to ship Iranian crude oil," he said.
In January, the latest EU sanctions against Iran allowed ships to burn fuel made from Iranian oil if it's produced and loaded in another country, according to the insurers of 90 percent of the world's fleet, Bloomberg reported.
The EU has cut its Iranian oil purchase alongside stopping insurance, reinsurance, Protection & Indemnity (P&I) and technical certification to ships that carry Iranian oil since July 1.
Recently Iran said that the Iranian Kish P&I Club is ready to provide protection and indemnity insurance to Iranian tankers. Tehran says that domestic insurance companies will insure the oil tankers thereafter.
Also, in March the United States imposed financial sanctions on a Greek businessman saying he secretly operated a shipping network on behalf of the Iranian government to get around international sanctions on the country's sale of oil.
Related News