18 January 2013 15:31 (UTC+04:00)
1 084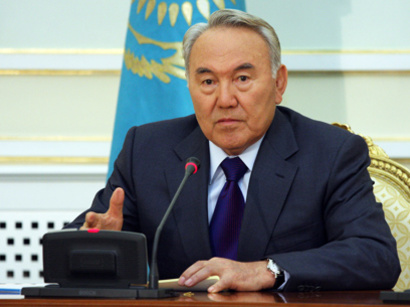 Opening the regular meeting with the ambassadors of foreign countries in Astana on Friday, Kazakh President Nursultan Nazarbayev invited the business circles of these countries to participate at EXPO-2017, Trend news agency reported.
"As you know, last year Kazakhstan won the right to host the international exhibition EXPO-2017 in Astana. I am inviting business circles of your countries to participate in this great project," Nazarbayev said.
Nazarbayev recalled the main results of the past year.
"Foreign policy is a continuation of domestic policy and while working in our country you have witnessed the dynamic development of the Kazakh economy. GDP growth reached five per cent which is a good indicator in today's world with trade turnover increasing by 12 per cent. The unemployment rate did not exceed six per cent, while it currently stands at 20 per cent in developed countries," the Kazakh president said.
He said the reserves of the Kazakh National Fund surpassed $80 billion. The president also reminded that Kazakhstan adopted a new development strategy until 2050, setting a goal to implement projects which will bring the country to a new level of innovative and technological development.
He stressed that intellectual schools have been created in the country where children are taught advanced techniques.
Nazarbayev told the foreign ambassadors about the decentralisation and modernisation of public administration in the country.
Addressing the ambassadors, the Kazakh President also invited foreign partners to participate in the Astana Economic Forum in 2013.
"I ask you to convey my invitation to the heads of your states to participate in the Astana Economic Forum which aims to combine efforts for a just world order," Nazarbayev said.
He expressed hope that the 21st Century will be the one when diplomats will be the leaders and armies will not have to correct diplomatic errors.
Nazarbayev assured those present that Kazakhstan will seek to remain a haven of peace and reconciliation in the Central Asian region.
Related News