30 August 2017 14:51 (UTC+04:00)
1 517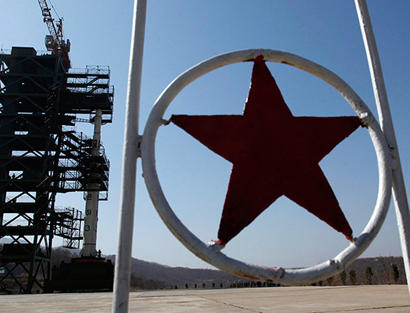 By Ali Mustafayev
North Korea has one again come to the forefront of the international scene following the launch of ballistic missile over the Japanese Hokkaido Island.
The test, as politicians say, sent a clear message to Washington just weeks after the Korean leader threatened to target the US Pacific territory of Guam with similar missiles. Pyongyang has tested more powerful intercontinental ballistic missiles in early 2017, but Tuesday's launch followed a much flatter trajectory than those tests.
The UN Security Council condemned North Korea's missile launch, calling it an outrageous threat and demanded to stop all the missile tests and abandon nuclear programs of the country.
The 15 members of the Security Council stated with one voice that it was of "vital importance" that North Korea make immediate steps to reduce tensions and called on all states to adhere to U.N. sanctions on Pyongyang, RIA Novosti reported.
"The Security Council expresses its grave concern that the DPRK is … deliberately undermining regional peace and stability and have caused grave security concerns around the world," the statement said.
U.S. leader Donald Trump and Japan's Shinzo Abe also vowed to increase pressure on North Korea.
A Hwasong-12 missile was launched on August 30 from near the capital of Pyongyang. The missile flew about 2,700 km and landed in the Pacific Ocean in 1,180 km from Hokkaido Island in Northern Japan.
Pyongyang confirmed the test hours before the UN Security Council unanimously condemned the launch.
North Korea's state KCNA news agency reported that Kim Jong-un had "personally guided" the missile, which came in response to military drills involving tens of thousands of troops from South Korea and the U.S. last week.
"The current ballistic rocket launching drill like a real war is the first step of the military operation of the KPA in the Pacific and a meaningful prelude to containing Guam," KCNA reported Kim's statement.
The agency quoted Kim as saying that there would be "more ballistic rocket launches" in the Pacific, adding that the regime would monitor Washington's response "before deciding on its future actions".
Previously, North Korea announced a detailed plan to launch missiles aimed at the waters off the coast of the US Pacific territory of Guam, where the U.S. naval base is situated.
The Secretary General of NATO, Jens Stoltenberg, also urged the North Korean regime to stop its missile programs, strongly condemning "aggressive missile launches towards Japan."
In August, the UN Security Council adopted new sanctions against the North Korea, accusing it for its ballistic missile program. The sanctions on Korean export of coal, iron and lead ores and seafood, were adopted to reduce the country's foreign-exchange income up to two thirds.
Pyongyang ignores the international community's pretensions regarding violation of human rights and its nuclear power programs for many years.
---
Follow us on Twitter @AzerNewsAz
Related News