17 January 2017 14:00 (UTC+04:00)
1 848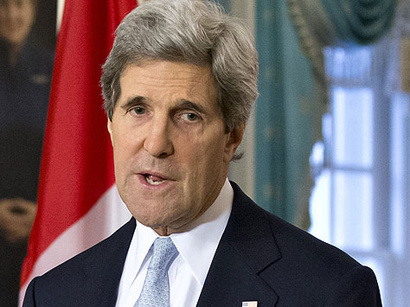 By Kamila Aliyeva
Refusal of an agreement on Iran's nuclear program could potentially lead to conflict and undermine the security of the Middle East region and around the world, U.S. Secretary of State John Kerry said.
The agreement on Iran's nuclear program is running, said Kerry, whose powers expire in a few days, in an interview with CNN on Monday.
He said that since the deal enacted into law Tehran has reduced the number of centrifuges used to enrich uranium from 19,000 to 5,000 kg. The total amount of enriched uranium available in Iran reduced to 12,000 kg to only 300 kg. "They respect the agreement," he added.
"I think, to say that we can abandon this agreement means asking for the possibility of confrontation and conflict," said Kerry. The agreement "made the region and the world more secure, since it limited the ability of the country (Iran) to acquire nuclear weapons."
During the election campaign, U.S. President-elect Donald Trump said he believes that the nuclear agreement with Iran signed by Obama administration is "a disgrace to the United States" and "the worst deal ever negotiated", and in case of his election as a head of the White House he will reconsider it.
The U.S. and international community decided on only "very bad choices" of a nuclear-armed Iran or a conflict in the Middle East before the deal was made.
"To be clear, to be crystal clear, terminating that agreement now would leave us with those same bad choices," Kerry stated.
The negotiations on the Iranian nuclear issue began in 2004, after Western nations have accused Tehran of developing a "secret military nuclear program." Since 2006, negotiations with Iran were led by the "six" of international mediators (the five permanent UN Security Council members and Germany). A number of resolutions were adopted requiring Iran to stop enriching uranium with nuclear proliferation purposes. These resolutions were progressively accompanied by restrictive measures to persuade Iran to comply. In 2006-2010 the United Nations, the United States and the European Union implemented several packages of sanctions against Iran.
The final joint comprehensive plan of action on the Iranian nuclear program was agreed in Vienna on July 14, 2015. Iran has undertaken not to produce weapons-grade plutonium for 15 years, keep no more than 300 kg of enriched uranium to 3.67 percent, to convert nuclear facilities and use them exclusively for peaceful purposes.
--
Follow us on Twitter @AzerNewsAz
Category News