10 July 2014 13:22 (UTC+04:00)
1 310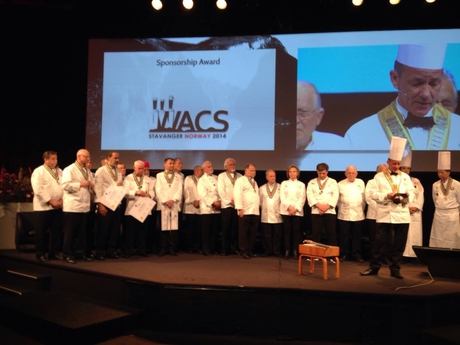 By Nigar Orujova
Azerbaijan participated in the World Association of Chefs Societies congress in Norway.
Stavanger town in Norway hosted the congress, which was attended by 1,300 chefs and over 100 members of the association.
Azerbaijan was presented by a delegation led by Head of the National Culinary Center, President of the Azerbaijan National Culinary Association and Chair of the UNESCO Traditional Food Committee Tahir Amiraslanov.
The four-day event included conferences, seminars, exhibitions, tastings event, countries' presentations, as well as the final of the World Championship of Chefs and Junior chefs that evaluated skills and talents of each participant.
Azerbaijan is always grabbing attention by its cuisine. Azerbaijani cuisine is one of the most delicious cuisines in the world and no tourists can resist tasting the local food while staying here.
Most of Azerbaijan's national meals are cooked from mutton, beef, poultry and fish. The variety of national foods also includes many dishes with rice, flour, vegetables and greens.
The unique dishes of Azerbaijani cuisine such as dolma, bozbash, bozartma, chykhyrtma, khashil, Shish kebab, piti, pilaff, and govurma are included in the national menus of the neighboring Caucasus nations.
Azerbaijani cuisine is also well known by its usage of vegetables and greens seasonally in all the dishes. Fresh herbs, including mint, coriander, dill, basil, parsley, tarragon, leek, chive, thyme, marjoram, green onion, and watercress are very popular and often accompany main dishes adding certain spice.
The Caspian Sea is home to many edible species of fish, including the sturgeon, Caspian salmon, sardines, grey mullet, and others. Black caviar from the Caspian Sea is one of Azerbaijan's best-known delicacies that are popular in other parts of the world, including former Soviet countries.
Related News