8 June 2015 11:00 (UTC+04:00)
1 183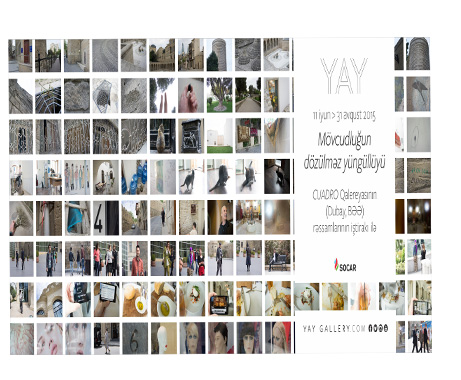 By Amina Nazarli
YAY Gallery is delighted to announce its upcoming exhibition The Unbearable Lightness of Being, which will bring together the work of four artists from the Middle East and North America, including a specially commissioned work entitled Mapping Baku by Roberto Lopardo. Held in collaboration with Cuadro Gallery (Dubai), artists Camille Zakharia, Mohammed Ahmed Ibrahim, Roberto Lopardo and Manal AlDowayan will use a range of media, including photography, print and sculpture to explore the relationship in between memory, home and identity.
Roberto Lopardo's Mapping Baku, specially commissioned for the exhibition at YAY Gallery, represents the thirteenth installment from the series Mappings. The Mappings project engages the artist in a photographic performance in which one photograph is taken every minute during twenty-four contiguous hours. The final result is presented as a monolithic light-box, sequentially ordered in twenty-four rows (one row per hour), with each row containing sixty columns (one column per minute). The artist does not follow a predetermined path, instead engaging the landscape and subjects as they naturally present themselves. The resulting images provide the viewer with an insight into a location's visual chemistry – its colours, textures, habits, interactions and energies. Previous projects have taken place in the cities of Istanbul, Jeddah, Bahrain, Doha, Jerusalem.
Lopardo, who was born in 1976 in Brooklyn, New York has received a Master's of Fine Art from the Rhode Island School of Design, a teaching certificate from Brown University, and a Bachelor of Arts in Politics from Whitman College. Lopardo previously taught at the Arizona School for the Deaf and Blind, Dine College on the Navajo Reservation, Rhode Island School of Design, and the University of Arizona. He is the former Chair and Professor of Photography at the American University in Dubai. Lopardo has been exhibited in many prominent venues including the RISD Museum, the US Consulate in Dubai, the Tenri Institute in New York, Video-Appart in Paris, Emerson Gallery in Berlin, and the Sultan Gallery in Kuwait. Roberto was recently awarded a New York University (NYU) research fellowship.
Manal AlDowayan creates photographic works, producing a series of black-and-white prints that re-create the memories of a previous generation. Having come from an oil family and worked in the oil industry prior to becoming an artist, AlDowayan's photographic series If I Forget You, Don't Forget Me re-constructs the memories of her father's generation. Through her photographs she documents the memories, conversations and objects from oilmen and women across Saudi Arabia to create her own stories and personal narratives.
AlDowayan who was born in Saudi Arabia has received a Master's degree in Systems Analysis and Design. She worked as the Creative Director of the Saudi Arabian oil company for ten years before becoming a full-time artist. She has participated in several residencies including: Delfina Foundation in London, The Town House Gallery in Cairo, and Cuadro Gallery in Dubai.
Manal has been included in international exhibitions including the Venice Biennale in 2011 and 2009, the Berlin Biennale in 2010, and in a collateral exhibition that coincided with Contemporary Istanbul in 2010. Her works are part of the permanent collections of the British Museum, LA County Museum, Mathaf Museum of Modern Arab Art, the Jordan National Museum of Fine Art, the Abdul Latif Jamil Foundation, the Abu Dhabi Authority for Culture and Heritage (ADACH), the Nadour Foundation, and the Barjeel Foundation. Manal AlDowayan is represented by Cuadro Gallery in Dubai. She currently lives and works between her native Dhahran (Saudi Arabia) and Dubai (UAE).
Camille Zakharia's Out Then series documents the journey taken since his departure from Lebanon in the civil war of 1985. His work, like AlDowayan's, reconstructs his encounters with people and places, exteriors and interiors.
Zakharia born in 1962, Lebanon graduated with a Bachelor of Fine Arts from NSCAD University (Nova Scotia College of Art and Design), Halifax, Canada in 1997 and a Bachelor of Engineering from the American University in Beirut in 1985. Zakharia was awarded the first prize in the International Photography Awards in 2006 and 2007, and shortlisted for the Jameel Prize in 2009. Zakharia has exhibited and is collected across North America, Europe and the Middle East, including the Victoria & Albert Museum in London, Canadian Museum of Civilizations in Quebec, National Art Gallery in Bangladesh, Sharjah Museum of Islamic Civilization and the Sharjah Biennale in Sharjah, Appleton Museum of Art in Florida, Bin Matar House in Muharraq, National Museum King Abdul Aziz in Riyadh, Bait Al Zubair Museum in Muscat, Loutro ton Aeridon in Athens, Saba Cultural and Artistic Institute in Tehran, Acte 2 Gallery in Paris, FotoFest in Houston, and Multicultural Arts Center in Halifax. Zakharia's Coastal Promenade series were exhibited in the Bahrain Pavilion in the 2012 Venice Architectural Biennale. This entry went on to win a Golden Lion for best national pavilion. Zakharia was also invited to participate in the 2013 Venice Arts Biennale on behalf of the Kingdom of Bahrain. Zakharia lives and works in Bahrain.
Mohammed Ahmed Ibrahim will be showing both sculpture and collage from his Turãb series. Ibrahim creates abstract shapes and forms, which explore his relationship with nature, saying "with the feeling of being at one with nature, you begin to shed your layers, piece by piece, and commence with creating an artwork."
Mohammed born in 1962, Khorfakkan, UAE graduated with a degree in Psychology from Al Ain University, and completed a residency at Le Consortium Art Centre in Dijon, France. His work has been exhibited internationally, including the Sharjah Biennial in 1993, 1995, 1997, 1999, 2001, 2003 and 2007, the Sharjah Art Museum in 1996 and 2005, the Dhaka Biennial in 1993 and 2002, Emirates Fine Art Society exhibition in Moscow in 1990, Holland's Sittard Art Center in 1995, the Cairo Biennial in 1998, the Institut du Monde Arabe in 1998, the Havana Biennial in 2000, Germany's Ludwig Forum in 2002, the Kunst Museum Bonn in 2005, and the Venice Biennale in 2009. Ibrahim received the First Prize for Sculpture at the Sharjah Biennial in 1999 and 2001. His work is in significant collections, including Qatar's Arab Museum of Modern Art, the Sharjah Art Museum and Holland's Sittard Art Center.
Located in the heart of Baku's Old City, YAY Gallery sits amongst designated UNESCO world heritage sites. The gallery was founded by YARAT, a not-for-profit contemporary art organisation, as part of their commitment to support the infrastructure for art in Azerbaijan. The gallery is a social enterprise; YAY (meaning "share" in Azerbaijani) shares all proceeds from sales of work between the artists and YARAT. In addition to six exhibitions a year, the gallery has rapidly established a strong following for its program of talks and publications. Artists represented by YAY Gallery have gone on to take part in residencies and exhibitions internationally. Faig Ahmed was nominated for the prestigious Jameel Prize in 2013 and exhibited at the Victoria and Albert Museum in London. In June 2014, Nazrin Mammadova, Rashad Alakbarov and Farid Rasulov took part in Delfina Foundation's respected residency in London.
--
Amina Nazarli is AzerNews' staff journalist, follow her on Twitter: @amina_nazarli
Follow us on Twitter @AzerNewsAz
Category News